Full-Arch Restoration
Eat, Smile, and Live With Confidence in Your Smile
Dr. Curtis's primary method for providing full-arch restoration includes using Nobel Biocare implants. This treatment concept provides patients with a fixed full-arch restoration the same day as surgery. It is a minimally invasive solution to missing or decayed teeth that has high patient satisfaction. We offer other systems, including Zimmer Biomet® and TeethXpress®, and the right system for you will depend on your oral health.
If you struggle with missing or failing dentition, or if you currently wear full or partial dentures and desire a better alternative, we encourage you to schedule an appointment at our office. Tooth restoration with dental implants will provide you with results that look and feel natural, and you can enjoy your life to the fullest knowing that you have a healthy, complete smile. Our office is located in Watertown, NY, an hour north of Syracuse. We are proud to be the leading oral surgery practice in North Country and look forward to helping you achieve the beautiful smile you deserve.
Benefits of Full-Arch Restoration
1
Rapid improvement in comfort and convenience.
Now you can smile and eat the foods you love confidently with fixed teeth that stay in place.
2
Lower cost.
This type of treatment is more affordable than conventional implant treatment options and will act as an investment by strengthening your mouth and jaw structure for many years to come.
3
Fast treatment and recovery.
Your new arch of teeth can be attached to your implant posts the same day as surgery, so you can begin healing right away and get back to your normal activities much sooner.
4
No special care.
Traditional dentures must be washed in a special solution and many patients dislike having to remove their teeth to clean them. With implant-based treatment, you take care of your new teeth the same as natural teeth—with regular brushing and flossing.
The Full-Arch Procedure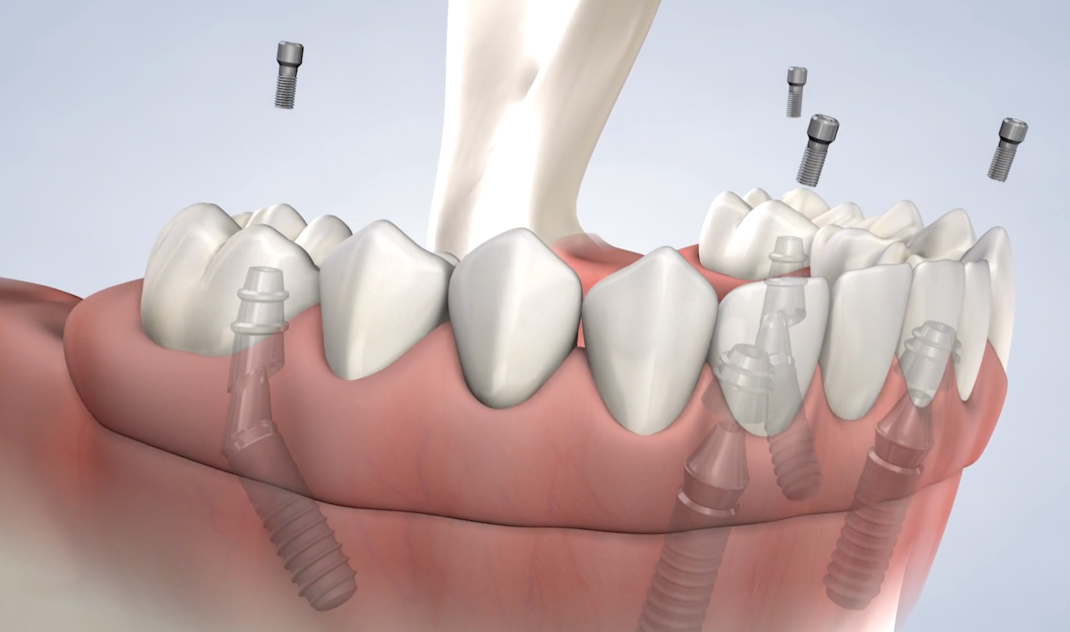 Only one surgical visit is necessary to receive a new smile. During this visit, Dr. Curtis will administer the anesthesia of your choice to ensure your comfort, surgically place the dental implants, and attach your new arch of teeth. If your final prosthesis is ready at the time of surgery, we can attach it during this visit, so you will walk out of our office with your final set of healthy, natural-looking teeth.
Watch Video
Begin Your Smile Transformation Journey
Dr. Curtis is a board-certified oral and maxillofacial surgeon and an expert in restoring teeth with dental implants. To begin your journey to a healthier, happier smile, contact our office for a consultation and Dr. Curtis will create a custom restoration plan for your oral health needs.
(315) 658-3972